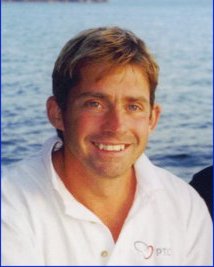 With more than twenty years as a designer, twelve years experience as a CAD industry expert and a veteran of three America's Cup campaigns, Sean Fawcett is uniquely qualified to bring design expertise to your next project..
During his tenure at Pedrick Yacht Designs in Newport, Rhode Island, Sean was on the design team for two America's Cup campaigns, the Defender/Courageous defense in 1983 and the successful 1987 Stars and Stripes challenge in Freemantle, Australia. He also was influential in the designs of the Maxi racing yachts, Sovereign and Drumbeat, luxury cruising yachts Unfurled, Katama, and Trashman and a number of production cruising yachts built around the world.
During this time, Sean also pioneered the use of CAD (Computer Aided Design) in the custom yacht design field. In 1986, he developed full-sized computer generated lines for both Sovereign and Stars and Stripes, a first for the industry, which shaved weeks off the construction process.
After leaving Pedrick Yacht Designs, Sean started Fawcett Designs, Inc. in Newport, Rhode Island and was a member of the technical team for the successful 1992 America3 America's Cup Challenge.
In 1993, Sean left yacht design to pursue a career in the high tech world of CAD software. During this time, he consulted with businesses both yachting and not, to help them improve their design capabilities and became an acknowledged expert in Computer Aided Design.
Now, Sean is back devoting his full time to the yachting industry, committed to helping clients achieve their design objectives and helping businesses improve productivity.